UKC CCH CH AKC CCH 'PR' TREE RIZIN' HEAVEN SENT
Call Name: Angel
Date of Birth: Dec 9, 2008
Sire: CH 'PR' Flatwood's Heza Hell Raiser
"Razor"
Dam: CH 'PR' Southern Flame Shady Lady
Owners: Katina & Kadie Childers
Angel has a stellar extended pedigree. She goes back to WSHOWCH GRCH 'PR' Cherry Creek Banjo Rick (twice) and WSHOWCH GRNITECH GRCH 'PR' Finley River Little Hawk (many many times) as well as GRNITECH GRCH 'PR' White River Rick (4 X) and the immortal GRCH 'PR' Little Walnut Tammy (9X +).
This is a stacked pedigree of winners and many years of dedicated breeding. I am very happy to own Angel and hope that we can add to the win list of these family lines.
**** FLASH 10/02/2010: ****
Tonight Kadie finished Angel to a UKC Bench Show Champion. This comes just after Angel made her cut at both Autumn Oaks & the UKC World Show. This is a top female & I am very proud that Kadie is becoming a TOP youth handler with Angel. I can't wait to watch them work towards Grand Champion AND begin the ground shows!!
KADIE & ANGEL go 3 Best In Shows in AKC Coonhound Bench Shows to complete her AKC CCH title! This is Kadie's very 1st Champion & Angel's 1st title. These two are becoming an infalliable team! :) SOOOO Proud of my Kadie!
FOR 2011:
In Angel's 1st show for 2011, she wins Champion of Champions Female at the BBCHA Bluetick Spring Hunt in Ashland, OH. Angel beat 10 other Champion females. Very impressive!!
In Angel's 1st multi-breed show (UKC)- Angel picks up a Best of Breed & Group 3 and a Best of Breed & a Hound Group 1!!! She needs just one more leg to be a UKC Conformation Champion.
To finish up her UKC Conformation title, Angel takes a Best of Breed & a Group 4 @ the UKC Multi-breed show in Wapakoneta, OH. =)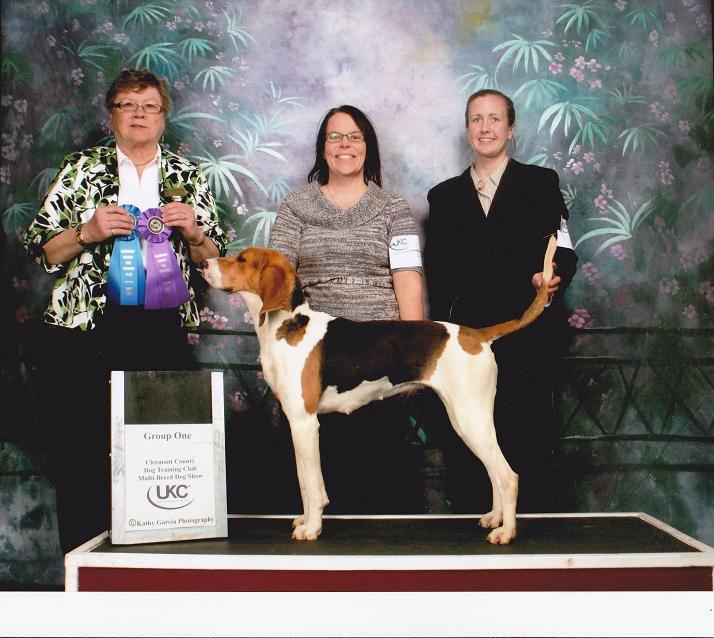 ~*~ ANGEL ~*~ GROUP ONE ~*~
Angel has grown into a beautiful, conformationally correct, adult. She has beautiful markings, a gorgeous MUSCLE PACKED rear end and a nice front shoulder.
My daughter, Kadie, has primarily claimed Angel as her own and they have had a nice career so far. Kadie finished Angel to UKC champion & AKC Bench Champion. They won Best In Show @ AKC Ohio State Youth & the AKC Midwest Championship.
Earlier in 2010, I showed Angel @ BBCHA Bluetick Days & won Best Female of Show AND then took her to Autumn Oaks & the UKC World Show- where she made her cut in both.
She is an outstanding female with conformation and personality plus. She has really matured out nicely and we look forward to doing great things with Angel in 2011 including beginning her All-Breed ground show career.
Watch for me, Kadie, and Angel in the ring.