GRCH 'PR' Tree Rizin' Maine Edition
Call Name: Sydney
Sire: GRCH GRWCH GRFCH 'PR' Second Edition
Dam: WCH GRCH 'PR' Michigan Miss
Date of Birth: June 23, 2007
Breeder: Joanne & Dave Doliber
Owners: Rob & Katina Childers
QUALIFIED FOR THE 2008 UKC WORLD SHOW
MY GIRL!!!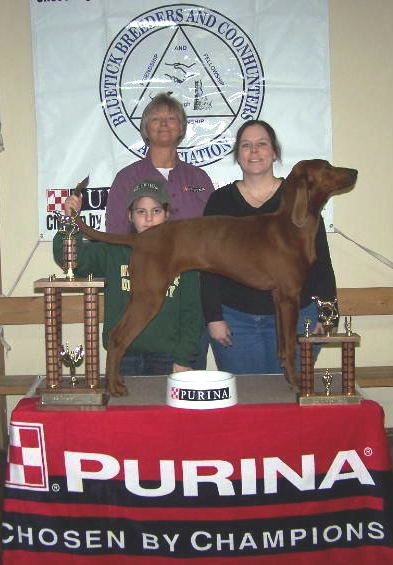 My newest Champion! CH 'PR' TREE RIZIN' MAINE EDITION (SYDNEY)
UPDATE 5/30/08: Sydney is my pride N joy. For such a tender age, she has done remarkable things already. She is no longer a "promising young prospect"- she is a phenominal young show dog!!!
She is currently ranked #3 in the UKC Purina Race over all breeds & the #1 Purina Redbone in the nation. She's currently #2 in the UKC Redbone Top Ten race. All of this accomplished from 8 mths old to 10 mths old.
Sydney and I are a solid team and I took forward to our upcoming breed days, Autumn Oaks & the UKC World Show. Sydney has a lot more winning to do this year and she will be even better next yr.
Everywhere I take her, I get compliments from highly respected show people and I've had several offers to buy Syd. She is not for sale. She & I have many more things to do together.
It's quite possible that Sydney could be the best dog I've ever handled. For SURE- she is the best dog under 1 yr of age- time will tell if she will touch the Tree Rizin' greats such as Trippy, Venus, Boo, Janie, Ruger & Tank. She has big shoes to fill but she's already knocking on their door.
Sydney went from registered to grand show champion undefeated!
Her current win list includes:
8 MTHS OLD:
2008 World Qualifier- Brazil, IN- Best In Show Female (Purina Pts Event)
2008 BBCHA Bluetick Days- Ashland, OH Best In Show Female Friday AND Saturday (Purina Pts Events)
9 MTHS OLD:
2008 Southern English Days- Champion Female (Purina Pts Event)
2008 Virginia State Championship- Champion Female (Purina Pts Event)
2008 BBOA Bluetick Reunion- Champion Female (Friday AND Saturday) (Purina Pts Event)
10 MTHS OLD:
2008 North Carolina State Championship- Champion Female
North Carolina State Championship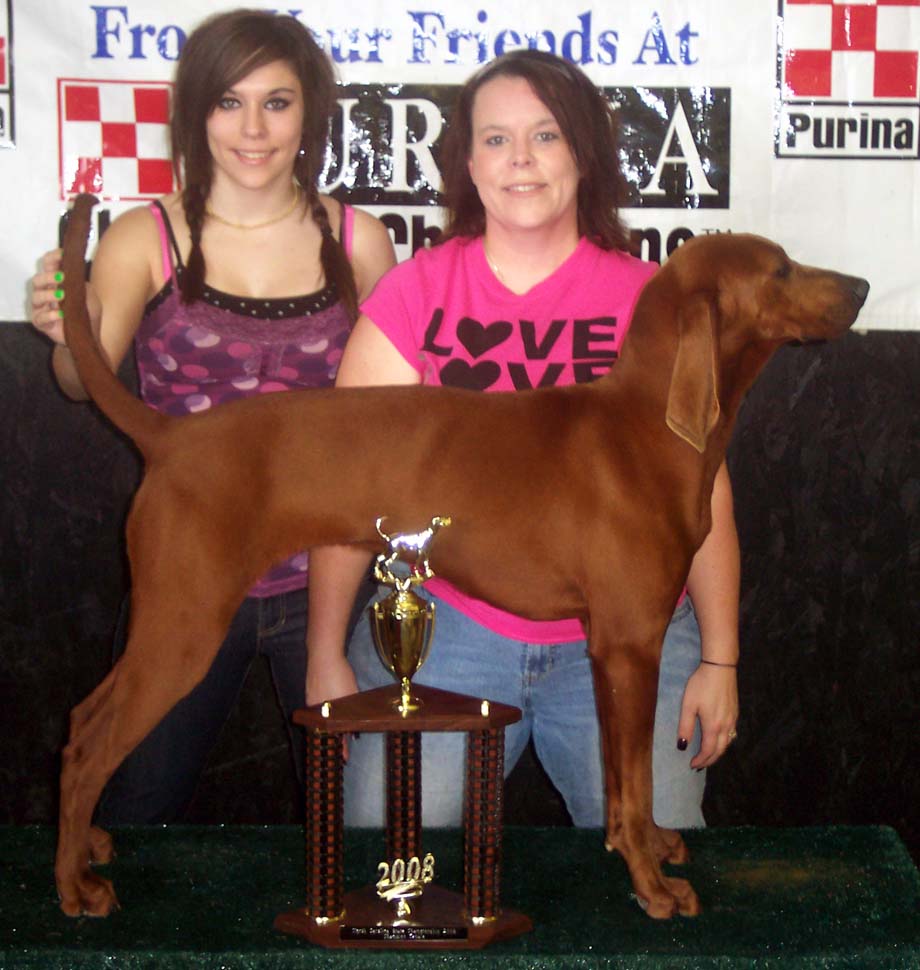 Syd's final Champion win- at 9 months old!! On to Grand!
Sydney came from our good friends Dave & Joanne Doliber. I consider Joanne my closest friend in these dogs and I value her friendship beyond words. We share a lot of the same interests and concerns within this breed & we could literally talk bloodlines and potential breedings for hours and have done so- talking about this litter. I feel honored to have one of the puppies from Missy & Jimmy's litter and look forward to incorporating this little girl into our program.
Sydney gets her registered name by combining alittle bit of mom and dad and honoring where she originated. Missy's registered name is Michigan Miss-- Michigan represents where Missy came from (Dale & Lori Young who live in Michigan). I chose Maine for the same reason. Next is sire, Jimmy, who's registered name is Second Edition.... I took the Edition from his name to get 'PR' Tree Rizin' Maine Edition. Syd's call name is simply one of the cities of Maine. I love it and it really seems to fit her.
Pic taken by Allen Gingrich @BBOA Bluetick Reunion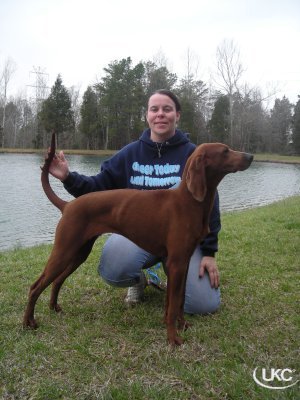 Kat & Sydney by the water in North Carolina
REFERENCE: WCH GRCH 'PR' Michigan Miss
My all-time favorite pic of Missy!
REFERENCE: GRWCH GRFCH GRCH Second Edition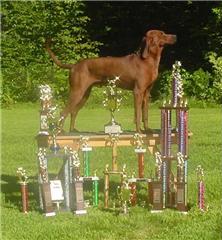 Jimmy with some of his hardware!