Cindy is an amazing dog. She is the best in her litter in my opinion. She has looks, brains, personality plus and is just an asset all the way around. Cindy has had much success at Tree Rizin' and is a littermate to Tag. Cindy's Major Wins include:
2004 Southern Redbone Days Best In Show Female- Both Days
2004 Hoosier State Championship Champion Female & Queen of Show
2004 American Redbone Days Champion Of Champions Female
2004 US Redbone Days Champion Female & Queen of Show
2004 UKC World Qualifier Champion Female
Cindy now lives in UT & it was a very tough decision for me to let her go. She was not for sale at the time but the guy that bought Cindy was LOOKING for her. He had been for a long while & I knew that what he was looking for was sitting in my kennel. I eventually let him talk me out of her & then spent the next couple of weeks trying to talk HIM out of her until she finally left. <G> Cindy is in great hands though and will see much success in UT. I'll miss her but I know she will do great things!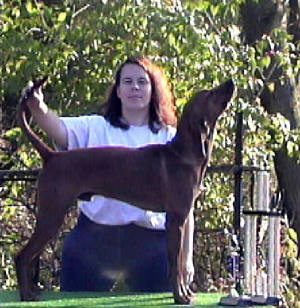 GRCH 'PR' Tree Rizin' Razor Tuff (Tuff)
Tuff is one of our grand babies. He is out of a GRCH female out of Alton Key's NITECH Pearl and GRNITECH Jake by GRCH Levi- who is a littermate brother to Deacon off of our GRNITECH GRCH Razor & GRCH Hood shown above. Some of Tuff's wins at Tree Rizin' include:
2004 Indiana Cabin Fever Classic Champion Male
2003 Indiana State Champion Male
2003 Indiana Governors Cup Champion Male
2003 NRCHA Redbone Sectional Best In Show Male
2003 National Youth Championship Best of Breed Male
GRCH 'PR' Tree Rizin' Sweet Midnite Music (DNA-P)
This is Sweet and her new owner Ben. Sweet is the mother to some of the nicest pups to come out of our kennel. She is a full littermate sister to Ruger, who I co-own with my friend Jen. Sweet proves that dynamite comes in small packages when she opens up that BIG OLE BAWL MOUTH! She is the mother to our VENUS and also to Tag & Cindy pictured above. You will see a lot of her offspring in the show ring in 2005! Some of Sweet's bigger wins included:
2003 UKC Winter Classic Best Redbone Female of Show
2002 Indiana Christmas Classic Best In Show Female
Sweet & Ben are a dynamite team & you heard it here first-- you will ALL know this young man in the future. He & his buddies are doing a FINE FINE job of promoting their hounds & I suspect Ben will be lethal later this year & 2006 with 'PR' Tree Rizin' America's Most Wanted (Felon) as well as a kid or two out of Sweet's planned litter later this year.
Hood was one of my first "National" contenders in the show ring. She had already seen great success before coming to me. Here is a list of her major wins:
2001 UKC/Pedigree #3 Top Redbone Bench Dog of the Year
2002 Winter Classic Grand Champion Redbone Female
2001 Indiana Christmas Classic Grand Champion Female
2001 Kentucky State Champion of Champions Female
2001 BBCHA (Bluetick Fall Round Up) Champion of Champions Female
2001 ACHA World Championship Best Redbone of Show
With her previous owner, Hood took these major wins:
2001 4 States Cystic Fibrosis Queen of Show
2001 American Heritage Best in Show
2000 Autumn Oaks Best Redbone Female of Show
Hood is the mother to Deacon and the grandmother to Deacon's daughters, Timex and Kit Kat.