***** A TYPICAL TREE RIZIN' PUPPY*****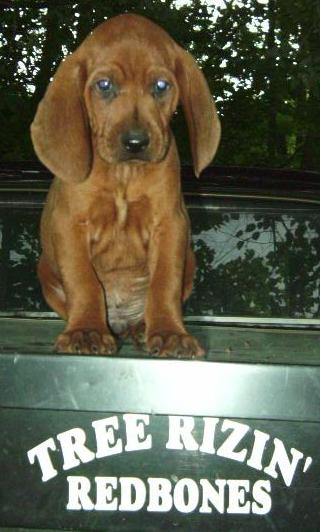 Out of Razor & Gretchen's 1st litter: 'PR' Tree Rizin' Razor's Revenge
CURRENTLY AVAILABLE:
We have nothing available at this time. Please contact us for information on folks who have Razor pups on the way.
Home: 937-839-0051
Rob's Cell: 937-336-1997
Kat's Cell: 937-336-6010
OR E-MAIL:
BREEDING PLANS FOR 2008:
We have 2 tentative breedings planned for the remainder of 2008:
GRFCH GRCH 'PR' America's Patriot
CCH GRCH 'PR' Bolt Action Reverend Jones
CH 'PR' Tree Rizin' Americas Most Wanted
CH 'PR' Code Red America's Warrior
'PR' Rockin' W Americas Freedom
*ALL NATIONAL winning dogs!*
~AND~
one of my current show girls who is just starting her show career...
'PR' Tree Rizin' Quadruple Crown
Note: We will be keeping all of these puppies for an extended period & are not maintaining a wait list at this time.
Crown was in her 1st show in late May- a redbone sectional where she took Best In Show & Queen of Show. I intend to show Crown again at Redbone Days provided she doesn't come into heat.
We should have a few pups available from Crown later this year.
HUNTERS:
When you finish your Razor pup to NTCH or GRNTCH- you get your next one free.
Call to inquire about a puppy!
Home: (937) 839-0051
Rob's Cell: (937) 336-1997
Kat's Cell: (937) 336-6010
A POEM I FOUND......
"Just A Dog"

From time to time, people tell me, "lighten up, it's just a dog," or, "that's a lot of money for just a dog." They don't understand the distance traveled, the time spent, or the costs involved for "just a dog." Some of my proudest moments have come about with "just a dog." Many hours have passed and my only company was "just a dog.," but I did not once feel slighted. Some of my saddest moments have been brought about by "just a dog," and in those days of darkness, the gentle touch of "just a dog" gave me comfort and reason to overcome the day. If you, too, think it's "just a dog," then you will probably understand the phrases like "just a friend," "just a promise," or "just a sunrise," "Just a dog" brings into my life the very essence of friendship, trust and pure unbridled joy. "Just a dog" brings out the compassion and patience that make me a better person. Because of "just a dog," I will rise early, take long walks and look longingly to the future.

So for me and folks like me, it's not "just a dog," but an embodiment of all the hopes and dreams of the future, the fond memories of the past, and the pure joy of the moment. "Just a dog" brings out what's good in me and diverts my thoughts away from myself and the worries of the day. I hope that someday they will understand that it's not "just a dog," but the thing that gives me humanity and keeps me from being "just a man." So the next time you hear the phrase "just a dog," just smile, because they "just don't understand."

Copied from Versatile Hunting Dog Magazine, February 2006
***********************************************************************************************************************
CLICK HERE TO CONTACT ROB & KAT
CLICK HERE FOR BOOKING INSTRUCTIONS!