Jim's Justify 'Em Jake (Razor X Star)
Interested in a puppy or started dog or just want to chat about redbones?? Feel free to contact us anytime. We are located in Southwestern Ohio near Richmond, IN (where Autumn Oaks is held every year) so if you are going to be in our area- please let us know. Maybe we can go for a hunt!

Just click this address to send me mail: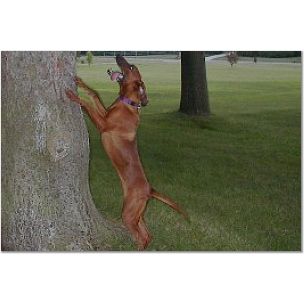 Pictured above is JJ (short for Jesse James). He is out of the first cross of Razor X Star and named after his grandfather. As you can see, they are working him on a caged coon. He is owned by Deb & Dave Eubank of North Perry, OH.

UPDATE 10/01: At 9 months old, JJ is running & treeing his own coon!! Congrats to Deb & Dave!! Let's get that dog in some shows to finish off the year & then hit those hunts next season!!