Ariel is a multi-purpose hound. She has a BIG MALE DOG mouth that will impress any coonhunter. Better still, on her first night to the timber at night, she ran, threw a nice locate, and treed with the other dog. In her first water race ever, she busted out of the box & swam the full length of the pond and treed when she got there. We recently ran a drag for her to see how she would fair at field trialing... she ran the track & treed perfectly.
She will be our multi-purpose prospect & I look forward to putting her in water race & field trials in 2011 AND continuing to give her some woods time.
Ariel is a full sister to 2008 Purina Outstanding Redbone Show Dog of the Year- AKC CH UKC GRCH 'PR' Tree Rizin' Maine Edition (Sydney) who we just recently sold. Syd has been making a name for herself in the AKC Conformation ring for 2010 & she & her daughter are ranked in the top AKC Standings.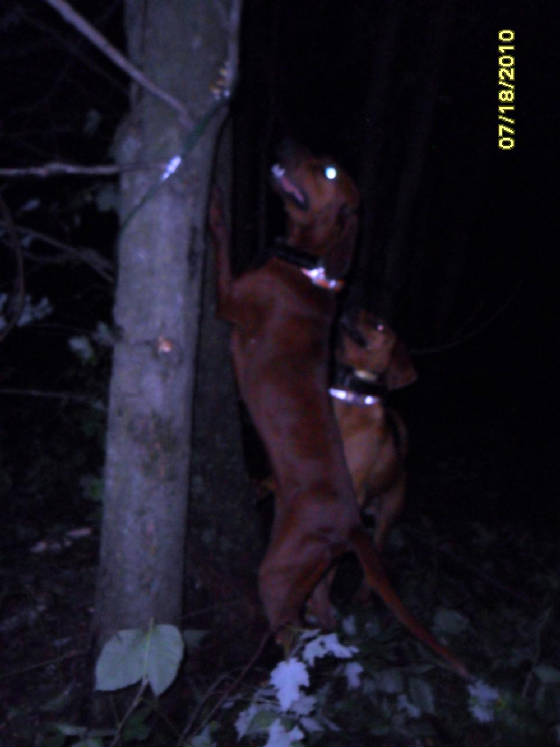 Ariel's first trip to the woods at night-- she tracked, located,& treed with Fritz! GOOO Ariel!
REFERENCE: GRCH 'PR' Tree Rizin' Maine Edition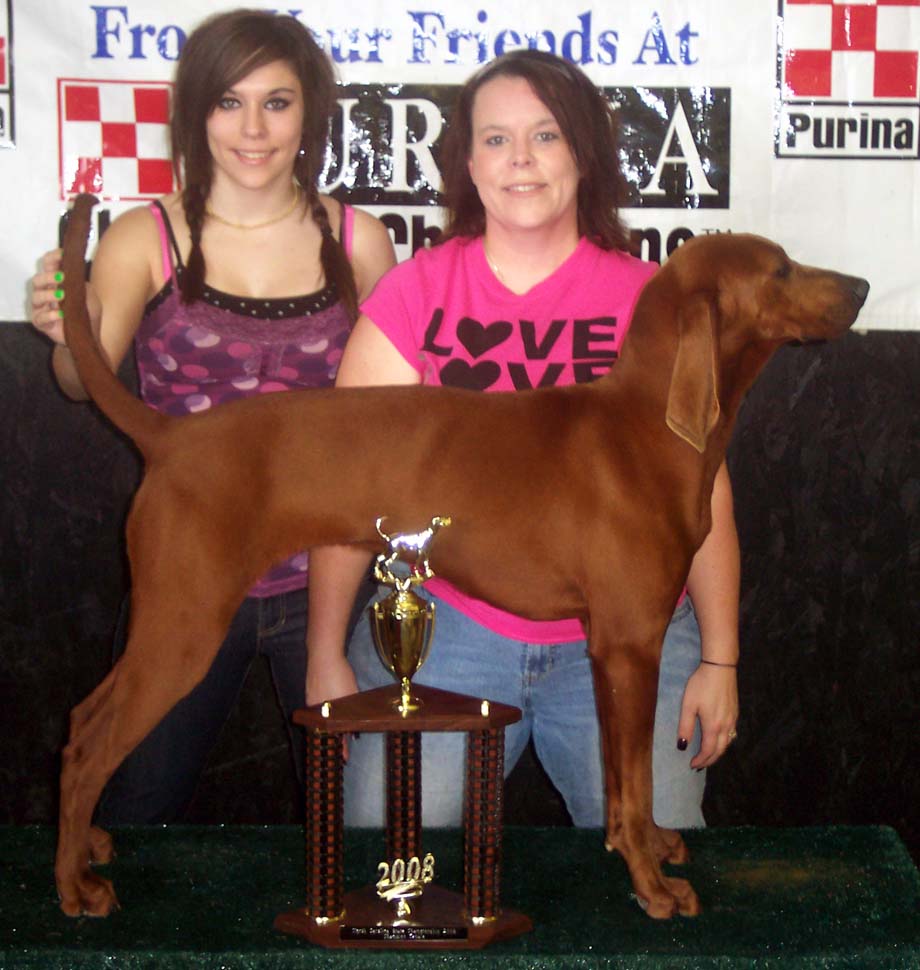 Here's a pic of Ariel's BIG SISTER Sydney doing what she does best! :) BIG SHOES TO FILL!!
REFERENCE: WCH GRCH 'PR' Michigan Miss
My all-time favorite pic of Missy!
REFERENCE: GRWCH GRFCH GRCH Second Edition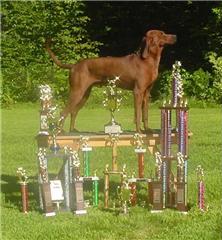 Jimmy with some of his hardware!
UKC World Show Champion's In Ariel's Pedigree:
2000 GRCH 'PR' Sidearm Bare Necessities
1997 GRCH 'PR' Mobley's Princess Scarlett
1994-1997 GRCH GRNITECH 'PR' Parker's Reverend Red
1991 & 1993 GRNITECH GRCH 'PR' Comstock's Red Lightning
1987 CH 'PR' Kranz' Anne
*Also Note: WSHOWCH GRWCH GRFCH GRCH 'PR' Only In America (2005 Overall Winner & 2007 Breed Winner)- is Ariel's Uncle (full brother to Syd's sire, Jimmy (Second Edition)*
Ariel on her 1st coonhide @ 9 wks old
ARIEL'S PEDIGREE:

Parents
2nd Generation
3rd Generation
4th Generation

GRCH GRWCH FCH 'PR' Second Edition

2008
National Redbone Days - Holmesville, OH Grand Final Line & Tree

2007
National Redbone Days -Lagrange, IN - GRCH Grand Final Line & Tree

Maine State Show & Water Race Championship: Maine State Overall Water Race
Champion

American Redbone Days - Brazil, IN - Grand Final Line & Tree

American Redbone Days - Brazil, IN - GRCH Grand Final Line

Grand Final Line & Tree : Black & Tan Sectional

2006
New England Water Race Champion

National Redbone Days - Grand Final Line & Tree

National Redbone Days - Grand Final Line

American Redbone Days - Grand Final Tree
American Redbone Days - Grand Final Line Tree

4th Annual Granite State Spring Classic : Overall Water Race Winner

2005
3rd Annual Granite State Spring Classic: Overall Water Race Winner

GRCH 'PR' Sidearm Bare Necessities

'00 UKC World CH Red Male

'00 Overall CH Male- Autumn Oaks

'02 National Grand CH Overall- Autumn Oaks

'02 & '03 GRCH Red Male- Winter Classic

'01 National Red Days Best Overall Dog of Show

'02 GRCH Male Nat Red Days

'01 & '02 GRCH Male American Days

GRCH 'PR' Sidearm Kajun Ketchup

'98 Autumn Oaks Pairs

'00 GRCH Male- American Red Days

'PR' Tidewater Max
'PR' Sidearm Creek Bottom Risky
CH 'PR' Crystal's Scarlet Lady
NITECH 'PR' Red Dude Edger
'PR' Palmer's Ellie May
CH 'PR' Sidearm Warrior Princess

GRNITECH GRCH 'PR' Parker's Reverend Red

'94, '95, '96 & '97 UKC World CH Red Male

NITECH CH 'PR' Wright's Timber Hoss
'PR' Taylor's Burr Oak Red Rose

GRCH 'PR' Mobley's Scarlet Princess

'97 UKC World CH Red Female

'98 National GRCH Red Female- Autumn Oaks

'98 Queen Of Show & GRCH Female- American Red Days

GRNITECH GRCH 'PR' Comstock Red Lightning

'91 & '93 UKC World CH Red Male

CH 'PR' Cory's Red Southern Belle

GRCH 'PR' Michigan Miss

'02 CH Female Winter Classic

'02 & '03 GRCH Female Nat Red Days

'03 GRCH American Red Days

'01 BIS Female So Red Days

'02 CH Female American Red Days

'03 GRCH Female So Red Days

FCH GRCH 'PR' Rev's Native Son

GRNITECH GRCH 'PR' Parker's Reverend Red

'94, '95, '96 & '97 UKC World CH Red Male

NITECH CH 'PR' Wright's Timber Hoss
'PR' Taylor's Burr Oak Red Rose
GRCH 'PR' Counts Crimson Jewel
'PR' Hendrix' Baron Bocephis II
'PR' Monk's Annie
CH 'PR' Miss Kellyann Smith
WCH FCH GRCH 'PR' Sugar Tree Charlie
GRCH GRCH 'PR' Young's Challenger I
'PR' Little Jenny
GRFCH GRCH 'PR' Young's Michigan Miss
GRNITECH CH 'PR' Elburn's Timber Raider

CH 'PR' Kranz' Ann

'87 UKC World CH Red Female

This pedigree generated at www.CoonDawgs.com