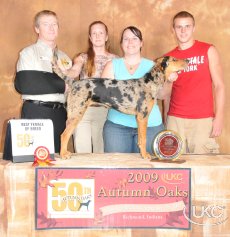 Ripley & Kat winning Best American Leopard @ Autumn Oaks 2009
'PR' Tree Rizin' Believe It Or Not
aka ~Ripley~
Date of Birth: 2/12/2009
Breed: American Leopard Coonhound
Sire: Meek's Lock Tight Lep
Dam: Meek's Ga Fancy
Owners: Rob & Katina Childers
Breeders: Lamar Meeks
A special thanks to Mr. Lamar Meeks for going out of his way to make sure that I got a superior puppy and for keeping my love for the show ring in mind as he was going through his puppies to find just the right one for me.
He did a great job. Ripley is all I could have asked for and much more!! Hopefully, she will end up a true dual purpose gal. She is well on her way, taking 2009 Best American Leopard Female at Autumn Oaks. Ripley is also started in the timber. She is running & treeing on hot tracks.
Update 1/6/2010:
After spending a few months with our friend Ben Hollinger and hitting the timber, Ripley is back home to get ready for Winter Classic. Below is a pic of Ripley taken tonight after several months of no bench work. As you can see, she's going to quickly get right back into the show groove.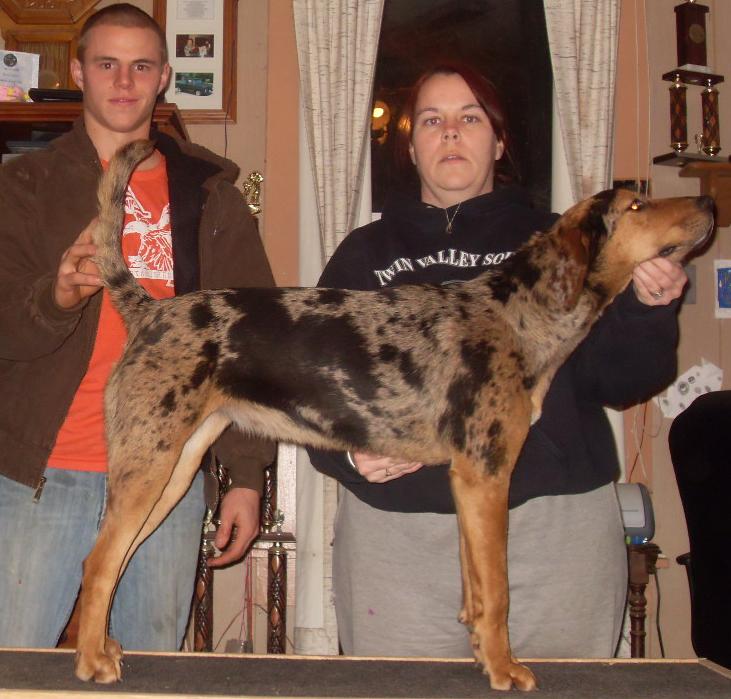 Ripley's 1st time back on the bench in several months