Sometimes Timing can play tricks on the best laid plans. Riley comes to us from Sidearm Kennel at a time when we are cutting back on the dogs. At first, it was a no brainer..... I had just sold Sydney and thought it'd be nice to have a registered dog that was old enough for the ring now to take along with Beethoven and I have been wanting a quality bitch out of either Warrior, Jones or Patriot (all out of the Dutch X Trippy 1st cross) to add to my program and eventually breed back to either Chase or Kane. It completely made sense--- I promise it did! :P
THEN- we decided to thin back the kennel but I had already committed to Riley previously..... what to do?!?!?! Well, I don't like backing out on dog deals to other folks anymore than I appreciate it when others do so to us- so I decided to honor my commitment and I am really glad that I did.
Riley is sooooo super sweet natured. She is a super easy going, easy handling lady that is old enough to show and will eventually cross nicely to Chase, Kane OR Tank. Regardless of the timing, Riley was worth the drive through the boondocks of West Virginia that it took to get her to Ohio. :O)
I will be looking forward to showing Riley at Autumn Oaks this year.
2007 Winter Classic Best Male of Show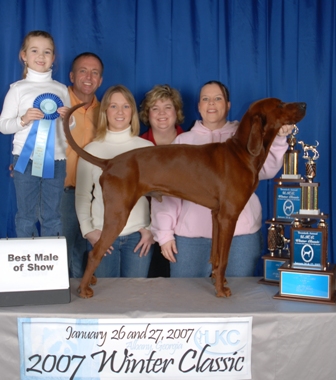 CH 'PR' Code Red Americas Warrior ~ Riley's Sire
'PR' Tree Rizin' Sidearm Maid-Rite

Reg. #: U888,991
Name: Riley
Sex: Female
Breed: Redbone
Whelp date: 11/30/2006
Breeder: David Driggers/Lori Mills
Owner: Rob & Katina Childers
Parents
2nd Generation
3rd Generation
CH 'PR' Code Red American Warrior
WSHOWCH '07 Purina Outstanding Redbone of the Year GRWCH GRFCH GRCH 'PR' Only In America
GRCH Sidearm Bare Necessities
CH Sidearm Warrior Princess
GRCH AKC CH 'PR' Tree Rizin' Triple Crown
GRCH Fischer's Looney Lennie
GRCH Rev's Sierra's Red Queen
'PR' Sidearm Code Red Cassidy
GRCH Sidearm Bare Necessities
GRCH Sidearm Kajun Ketchup
CH Crystal's Scarlet Lady
CH Sidearm Warrior Princess
GRNITECH GRCH Parker's Reverend Red
GRCH Mobley's Princess Scarlet
This pedigree generated at www.CoonDawgs.com
Copyright © 2005-20 Rob and Katina Childers. All Rights Reserved.

No Material (Written or Pictorial) may be duplicated without the express written permission of site owner.