CH 'PR' Tree Rizin' Classically Composed (Beethoven) DNA-VIP
2009 BIS Male National Red Days & English Days
Sire: GRCH 'PR' Causey's Red Sunset Dude DNA-VIP (out of Ruger X Hood)
Dam: GRCH 'PR' Tree Rizin' Razor Style (Venus) DNA-VIP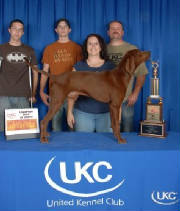 AKC CCH GRFCH GRWCH CH 'PR' Tree Rizin' T-Rex II (Tracker) DNA-VIP
2007 Autumn Oaks Champion Red Male
2007 World All Around King of Show
Sire: NITECH GRCH 'PR' Tree Rizin' Outlaw Kid's T-Rex DNA-P
Dam: GRCH 'PR' Tree Rizin' Sweet Midnite Music DNA-P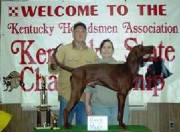 CH 'PR' Tree Rizin' Americas Most Wanted (Felon) DNA-VIP
2006 KY State, 2007 CH Male Redbone Days, BIS Male Red Days
Sire: WSHOWCH GRWCH GRFCH GRCH 'PR' Only In America DNA-P
Dam: GRCH AKC CCH 'PR' Tree Rizin' Triple Crown DNA-VIP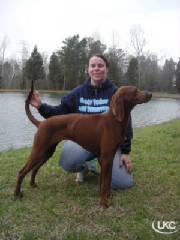 GRCH 'PR' Tree Rizin' Maine Edition (Sydney) DNA-VIP
2008 Purina Outstanding Redbone of the Year
MANY National Level Wins
Sire: GRWCH GRFCH GRWCH 'PR' Second Edition DNA-P
Dam: WCH GRCH 'PR' Michigan Miss DNA-P
GRCH AKC CCH 'PR' Tree Rizin' Triple Crown DNA-VIP
2002 AKC, UKC, NKC, & ACHA World Champion Redbone
2002 AKC & NKC World Champion Female
2002 & 2005 Autumn Oaks GRCH Red Female
2002 National Redbone Days & KY Houndsmen Best Overall
MANY others! Trippy is the Matriarch of our breeding program!
Sire: GRCH 'PR' Fischer's Looney Lennie DNA-P
Dam: GRCH 'PR' Rev's Sierra's Red Queen DNA-P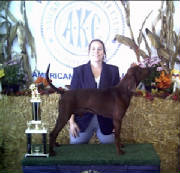 GRCH AKC CCH NKC CH 'PR' Tree Rizin' Sidearm Red Ruger DNA-P
2002 AKC, NKC & ACHA World Champion Redbone
2001 US Redbone Days Best Overall
MANY Other major wins!
One of the most influential dogs in my show lines.
Sire: GRCH 'PR' Sidearm Kajun Ketchup
Dam: GRCH 'PR' Cory's Sidearm Red Reba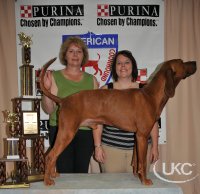 NITECH GRCH 'PR' Tree Rizin' Razor's Titanium Tank DNA-VIP
2009 American Redbone Days King of Show & 2009 Autumn Oaks Dual Champion Redbone
Sire: GRNITECH GRCH AKC NITECH 'PR' Key's Outlaw Razor Red DNA-P
Dam: GRCH AKC CH 'PR' Tree Rizin' Triple Crown DNA-VIP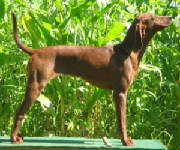 GRCH 'PR' Tree Rizin' Tank's G.I. Jane DNA-VIP
2006 & 2007 Top Ten
Queen of Show US Redbone Days
Sire: NITECH GRCH 'PR' Tree Rizin' Razor's Titanium Tank DNA-VIP
Dam: GRCH 'PR' Tree Rizin' Hide 'N Seek DNA-VIP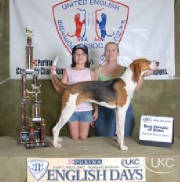 CH 'PR' Gold Dust X-Quisite (Quiz)
2007 BBOA Days & English Days BIS Female
Sire: GRCH 'PR' Gold Dust X-Factor
Dam: GRCH 'PR' Midnight Faith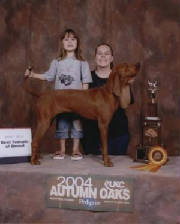 GRCH 'PR' Tree Rizin' Razor Style (Venus) DNA-VIP
2005 & 2006 Autumn Oaks Breed & CH Breed Winner
Sire: GRNITECH GRCH 'PR' Key's Outlaw Razor Red DNA-P
Dam: GRCH 'PR' Tree Rizin' Sweet Midnite Music DNA-P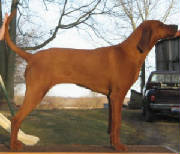 NITECH GRCH 'PR' Trailyn Redneck Woman (Gretchen)
Sire: CH 'PR' Trailyn Enduring Justice (out of Ruger)
Dam: CH 'PR' Trailyn Sidearm Vixen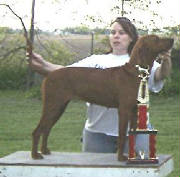 CH 'PR' Tree Rizin' Quadruple Crown DNA-VIP
2008 ARCHA Sectional Queen of Show
Sire: WSHOWCH GRWCH GRFCH GRCH 'PR' Only In America DNA-P
Dam: GRCH AKC CCH 'PR' Tree Rizin' Triple Crown DNA-VIP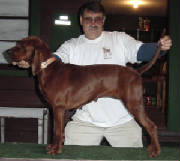 GRCH 'PR' Tree Rizin' Hide 'N Seek (Heidi) DNA-VIP
Sire: NITECH GRCH 'PR' Tree Rizin' Razor's Titanium Tank DNA-VIP
Dam: GRCH 'PR' Tree Rizin' Sweet Midnite Music DNA-P
GRCH 'PR' Tree Rizin' Top Gun (Maverick) DNA-VIP
Sire: GRCH AKC CCH NKC CH 'PR' Tree Rizin' Sidearm Red Ruger DNA-P
Dam: GRCH 'PR' Rev's Sierra's Red Queen DNA-P