This is one of those pages that you hope that you never are going to need and then, finally have to come to the conclusion that you HAVE to have it.
This page is dedicated to those dogs that made a mark on our program and our hearts but were lost along the way.

Just this side of heaven is a place called Rainbow Bridge.

When an animal dies that has been especially close to someone here, that pet goes to Rainbow Bridge. There are meadows and hills for all of our special friends so they can run and play together. There is plenty of food, water and sunshine, and our friends are warm and comfortable.

All the animals that had been ill and old are restored to health and vigor. Those who were hurt or maimed are made whole and strong again, just as we remember them in our dreams of days and times gone by. The animals are happy and content, except for one small thing; they each miss someone very special to them, who had to be left behind.

They all run and play together, but the day comes when one suddenly stops and looks into the distance. His bright eyes are intent. His eager body quivers. Suddenly he begins to run from the group, flying over the green grass, his legs carrying him faster and faster.

You have been spotted, and when you and your special friend finally meet, you cling together in joyous reunion, never to be parted again. The happy kisses rain upon your face; your hands again caress the beloved head, and you look once more into the trusting eyes of your pet, so long gone from your life but never absent from your heart.

Then you cross Rainbow Bridge together....

Author Unknown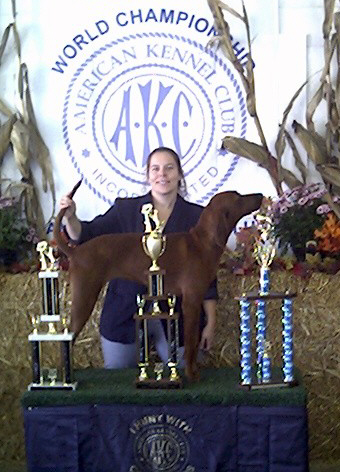 2002 AKC WORLD CHAMPIONSHIP BEST FEMALE OF SHOW & WORLD CHAMPION REDBONE~ TREE RIZIN TRIPLE CROWN
GRCH AKC CCH 'PR' Tree Rizin' Triple Crown (Trippy)
January 22, 2001 - October 19, 2012
As much as Razor was Rob's "Dog of a Lifetime," Trippy was most definitely mine. She was an amazing reproducer: 4 CCH, 16 CH, 3 NTCH, 9 GRCH, 2 CGRCH, 1 GFCH, and 1 GRWCH. Her legacy will continue in the breed's greats for many years to come. Trippy was a winner in her day--- I won more with her than any other show dog I've ever put my hands on and I will always be in her debt for that. In 2002, she won 4 World Champion titles, National Grand at Autumn Oaks (which she repeated in 2005), and National Redbone Days Best Overall Dog of Show. She was amazing!! However, none of that will ever touch how special she was to me. She has forever been called the matriarch of Tree Rizin' and I can't imagine ever NOT having Trippy descendants in this program. She is everything I could ever want in a redbone. She was conformationally superior, she LOVED to hunt, was an excellent track dog, a nice tree dog, and she LOVED to run to catch. She loved the water and won nearly every race I ever put her in. I don't know that I will ever be lucky enough to have another one like her and I thank God for the many years that I had with her. She lived to almost 12. She and Razor grew old together and we will love them both forever. Thanks for giving me the best of you always, old girl. My heart is truly broken without you.
2004 PURINA & PEDIGREE TOP TEN!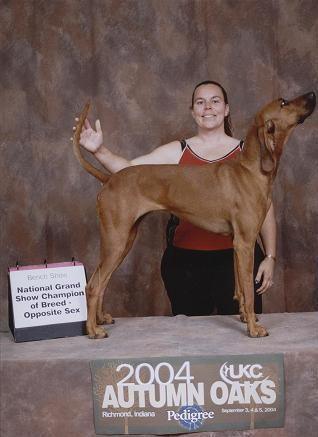 2004 National Grand Show Champion Redbone Female NITECH GRCH Tree Rizin' Razor's Lil' Ghost (Boo)
NITECH GRCH 'PR' Tree Rizin' Razor's Lil' Ghost (BOO)
October 7, 2002 ~ December 14, 2011
One of Razor's finest and one of the most consistent, most pleasurable coonhounds we've ever owned. Boo & I had a bright awesome show career taking wins at Winter Classic, Autumn Oaks, and National Redbone Days to name a few. She finished to NITECH with 3 different handlers-- she'd handle for anyone. She's the mother of Duad Grand Ox out of 1/2 brother Rip as well as many other nice hounds. She will be truly missed.
GRNITECH GRCH AKC CCH NITECH 'PR' KEY'S OUTLAW RAZOR RED
May 15, 1997- February 4, 2011
It's taken me a few days to get myself together enough to do this memorial to Razor. What can I say? He's the reason that Tree Rizin' Redbones is what it is today. Razor is the backbone of every breeding decision and every dog purchase we've made for so long now that I don't remember ever making redbone decisions that didn't center around him. He was that once-in-a-lifetime hound that most only grasp to every own. We were fortunate to find him in our 2nd year of owning redbones. We were blessed to own him for 11 years thereafter. It's not often that a redbone lives to the ripe old age of 13. Razor wasn't any ole redbone though. He lived to be 13 years, 8 months, 2 wks, and 6 days old. He sired his last natural litter in the summer of 2010. He was truly exceptional in all that he ever did. The best hunter we've ever owned, the best reproducer we've ever seen, and the best friend that Rob will ever dream of having. He's been our everything and his void will be felt for our lifetime. We already miss him more than words could ever say. I can't imagine a life that doesn't include him. We love you Razor. Always. Forever. See you at Rainbow Bridge, my friend.
GRCH AKC CCH NKC CH 'PR' TREE RIZIN' SIDEARM RED RUGER DNA-P
April 13, 2000- November 2, 2010
Ruger is the reason that I am a show person today. He was my very first true "show" dog. He taught me what that title truly meant. He had a heart that was unmeasurable, a willingness to please that was incredible, and he LOVED to show! I've never owned a dog that took such pride in presenting himself as Ruger did. He NEVER let me down. Gave me 100% and would've given more if he were capable. He made me proud- win or lose and with him, though with him, we did a lot of winning.
I've always said that these dogs can break your heart and today, I am reminded just how much. He's irreplaceable- in my life and in his co-owner, Jen's. We'll love him forever. Rest in peace, my friend.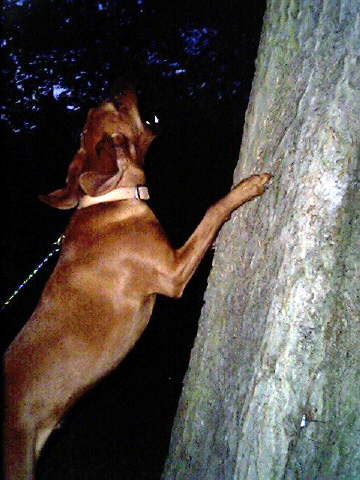 NITECH GRCH 'PR' Childers' Tree Rizin' Star
NITECH GRCH 'PR' Childers' Tree Rizin' Star
January 12, 2000- December 14, 2007
Star is THE foundation bitch of Tree Rizin'. She has produced more awesome dogs for us bred to Razor than any other one female ever did. We've also owned Star since she was just a baby and have had her longer than any other female in our kennel & the only dog we've owned longer than Star is Razor.
Last week, Star got a win towards her GRNITECH title and we had hopes at pushing her towards that title. I guess it just wasn't meant to be. Regardless though, Star was a phenominal coondog- through and through.
Star is the mother to Rooster, Donna, Logo, Dusty & Duke.
Star- you are one of a kind. You will be greatly missed.
Rest in Peace my friend.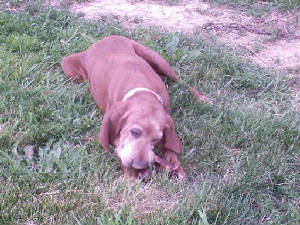 Rest In Peace ole girl!
NITECH CH 'PR' Noss' So Mtn Showtime Molly DNA-P
May 15, 1997- August 15, 2007
Molly came to live with us in March of 2006. The intent was to raise a litter out of Molly & Razor... a full sibling cross. Doing this type of cross will bring out the best or worst in the offspring & we knew with the ability of Molly & Razor & their reproducing ability, it was worth a shot. Little did we know that Molly's place in our kennel would quickly move to a place in our hearts. She was such a sweet sweet girl and quite probably the very best dog to have around that ever lived. She stole our hearts. Molly was too old and her udders too stretched out to raise her puppies alone so once she whelped, her puppies were raised by a surrogate mama. This served us well & we raised 3 females from her litter. One of them was just priced at $2000 at 11 mths old. After we got our babies, I didn't see any reason for her to leave here. I thought it would be nice to keep Molly & Razor together for the remainder of their life. She's lived here as a companion since and that is one of the best decisions we ever made. That dog got more hugs, rubs and kisses in the past 17 mths than some dogs get in their lifetime. I'm thankful that we got to live with Molly over the past year. She touched every heart in this home. She is now buried under the big tree on our farm with T-Rex to her left and Sue to her right. Rest in peace- Miss Molly.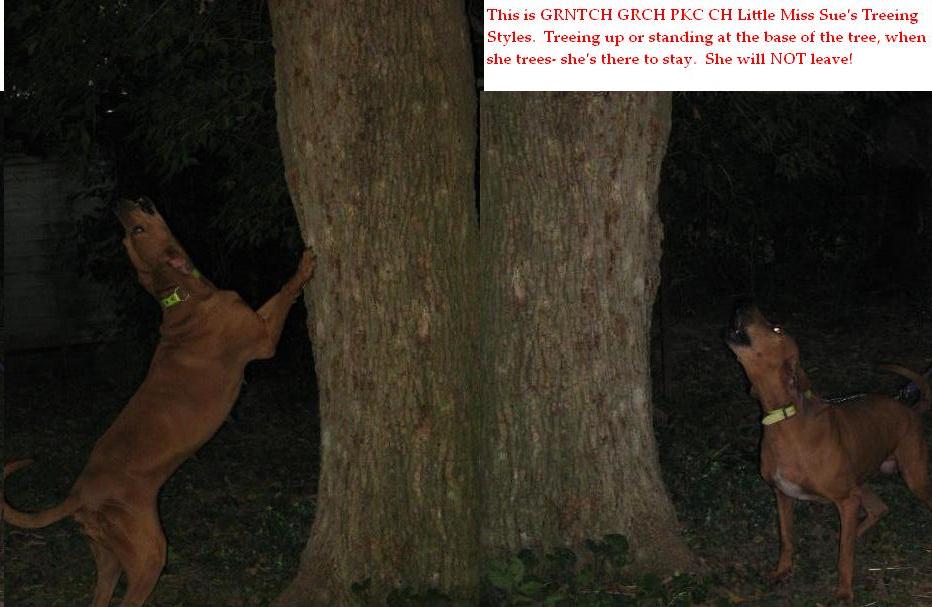 GRNITECH GRCH PKC CH 'PR' Little Miss Sue
IN LOVING MEMORY:
GRNITECH CH PKC HUNT CH 'PR' LITTLE MISS SUE
January 18, 1997- October 7, 2006
It's hard losing any dog but to lose one that had proven to the breed so much is heartbreaking. Sue was one of our redbone breeds BEST of the BEST! She was a coondog and we are happy that we have been using her to pup train in the past few weeks.
Sue was such a sweet ole gal. She never really acted her age. You would've guessed her at about 6 or 7. She was always raring to go & loved attention and boy, did she love to hunt. Sue could make most COONdogs look silly. She had so much knowledge and did a fine job handing that to the young dogs. She will be greatly missed and will likely never be replaced.
NITECH GRCH 'PR' Tree Rizin' Outlaw Kid's T-Rex
May 7, 2001- August 16, 2006
We lost T-Rex today after a battle with what the vet has ruled poisoning. He came down sick after Rob pleasure hunted him one night and we've battled keeping him alive ever since. Today we lost that battle. T-Rex came to our kennel to breed to Razor's females & left our kennel with our hearts. Kat fell in love with T-Rex from the minute he jumped out of the dog box. He just had a nature about him that made you fall in love. Rob loved him too and let him know so by hunting him night after night. He was our lead dog and our future. He was reproducing pups that will make a mark on our breed- just like his sire & dam did. It is our hope that with the help of Frozen Semen that we will still get enough pups on the ground someday to put him on the reproducers list. He deserves it. Rest in Peace Mr T. We love you.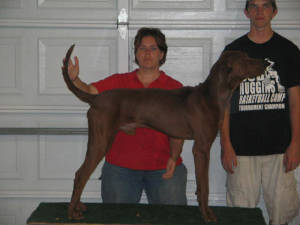 The last photo of Bo. Bo was such an impressive & beautiful dog w/a powerful mouth& a heart of gold
GRCH 'PR' Tree Rizin' Family Tradition
"Bocephus- aka Bo"
July 2, 2004- September 19, 2005
Tonight Bo was killed on the road while coonhunting. With his death comes a great loss to all- for what he was in the woods, for his great personality, for his phenominal mouth and for the drive within him that made him a split treeing machine at just a year old. Bo was co-owned by Dan Foreman & Dan was hunting him when he was hit. Dan & Bo were quite the team. Bo was Dan's first coondog- first showdog- first hunting dog and the loss of Bo HAS set our breed back. He was history in the making- a phenominal hound in every way. Bo was sired by our GRNITECH GRCH Razor and was out of Razor's niece- CH Golden Woods Flamin' Annie. The loss of Bo is another that will be felt for a long time to come. RIP Bo!
Our Heart!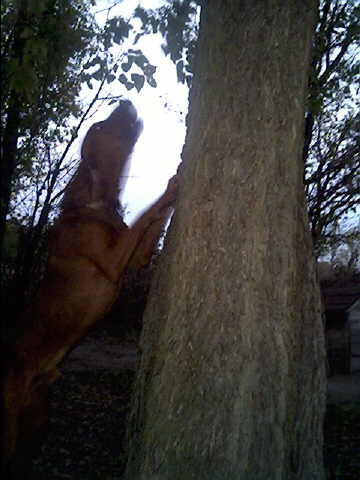 GRCH 'PR' TREE RIZIN' RAZOR'S TRUE GRIT ~ ROOSTER ~ DNA- VIP (RAZOR X STAR)
GRCH 'PR' Tree Rizin' Razor's True Grit (Rooster)
September 25, 2001 - December 1, 2004
DNA- Verified Parentage
It's with a very heavy heart that I have to add Rooster to our memories page. Rooster was one of those dogs that just made you smile. His silly disposition, his lovingness, his eager to please and that beautiful beautiful head- Lord, we are going to miss him. Rooster was killed while hunting on December 1, 2004. Rooster was out of Razor & Star and was everything you could want in a coondog. He had the most phenominal mouth of any dog we've owned. His loud piercing voice would go right through you at times. He was an impressive tree dog that died way before his time. He had a 3rd & 4th place win in UKC and was so close to his Nite Championship. It is a shame that he will not see it through.
On Rooster's page- I had written "When The Lord Closes a Door- He Opens A Window. When He took from us Anvil- he brought to us Rooster". I've believed that since the day Rooster was born. Sometimes the reasons are confusing. Right now, I have no answers. It's a sad day.