'PR' Tree Rizin' Deacon Does It (AKA Deacon)
'PR' Tree Rizin' Deacon Does It
Born on the same day (2/28/2002) and born to the same mother (Hood)- these two puppies do NOT share the same daddy!!!! =)
Scandal & Deacon are two products of our DNA-VIP litter. We crossed Hood to both Razor and Ruger and produced UKC's 1st true coonhound DUAL SIRE litter!! Our split was 2 females & a male to Ruger and 2 males to Razor. We couldn't have asked for a better split.
We hope to watch these two as they grow & see how different two puppies can turn out - from the same dam but different sires. This has been a very exciting venture for us and one that we look forward to doing again!
Scandal is now owned by Linda & Dan Dunkel of Ohio and we kept Deacon. Deacon is just 4 months old and is beginning to HATE a coon. While hoisting up a coon in a tree, Deacon now rips off the chop barks, stands up on the wood, grips his claws in and locks down treed. He has really developed his interest in a coon within the last two weeks. He barks his head off at a caged coon. I think it would be interesting to take him to a big event like National Redbone Days just to see the mouths drop when this little pup stands on the wood!!! =)
Sire: GRNITECH GRCH AKC NITECH Outlaw Razor Red
Dam: GRCH Sidearm Lil' Red Ridin' Hood
See Razor & Hood's pages for a complete pedigree work up.
~*~*~*~*~*~*~*~*~*~*~*~*~*~*~*~*~*~*~*~*~*~*~*~*~*~*~*~*~*~*
'PR' TREE RIZIN' SON OF A GUN (GUNNER)
SAD UPDATE: Tragically my beautiful gorgeous baby died in an accident this past Thursday (8/1/2002) while at his co-owners home. I am very sad about this loss. Gunner was the only Ruger pup that I had kept for myself to date and he was everything I was looking for. I loved him and had great expectations from him. My daughter, Cassi had just won Best Redbone of Show at the 2002 UKC Youth World Championship the prior weekend. Gunner will be greatly missed.
~~~~~~~~~~~~~~~~~~~~~~~~~~~~~~~~~~~~~~~~~~~~~~~~~~~~~~~~~~~~~~~~
This is Gunner off of Ruger's first litter by CH 'PR' Trailyn Sidearm Vixen owned by Tracy Davidson. Gunner is almost 7 months old and is gorgeous!!!! He has his daddy's face & head and I believe he will grow out to be a lot like Ruger. Gunner is the richest red color and I am so thrilled that Ruger was able to produce this color consistently within the whole litter. See a picture of Gunner's littermate sister on Ruger's page.
As Gunner matures- he is gaining loads of substance. He stands 23" tall at 6 months old. I believe he will be a bigger dog than his dad and right now- looks to be growing in all the right places. He is co-owned with Brent Eller (who also co-owns Roxie) and Brent is doing a great job with Gunner.
Gunner's "coming out" on the bench will likely be National Redbone Days since he will "just" miss being old enough for American Days. At 5 months old, Gunner had tighter feet than he does now at 7 months old but I believe this is due to the growth spurt he seems to be taking. He still has nice feet- just not as small and tight- they are more BIG and nice. I am still thinking of taking him to National Days but really won't know for sure until we load up. I have plenty of time with him and I want him to come out a winner and Autumn Oaks and Winter Classic are just around the corner.
AS YOU CAN SEE- WE HAD GREAT HOPES FOR MY BOY!!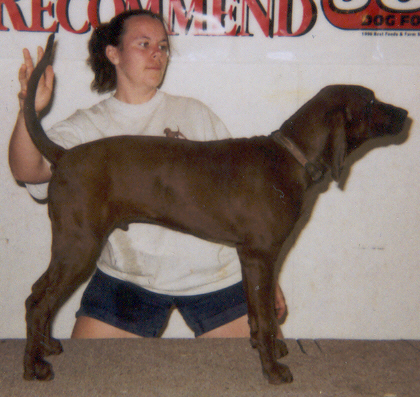 In Loving Memory: 'PR' Tree Rizin' Son Of A Gun AKA GUNNER 12/10/01- 8/1/2002
God Bless & Keep 'Em Red!