CCH GRCH AKC Supreme CH 'PR' Cherry Creek Ringside Gossip
Date of Birth: February 24, 2007
Sire: CH 'PR' So Fork River Key Largo Ex L
Dam: GRCH 'PR' Beechwood's So Fork River Cindy
~ Lebanon, KY ~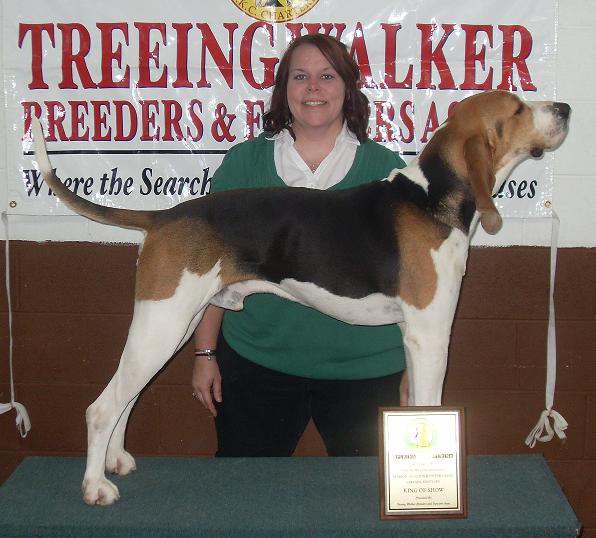 Qualified for Lee Crawford~ 3/27/10 Treeing Walker Sectional GRCH Male & King of Show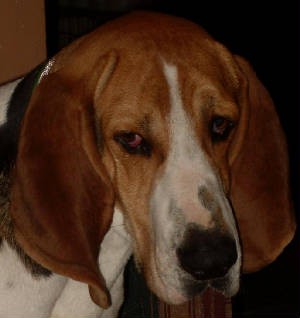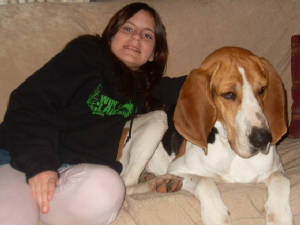 I've been a Gossip fan since the first time I saw him at Kentucky State in 2008. We've watched him grow and develop into a superior hound that can and does continuously contend at the National level. He is one of the TOUGHEST coonhounds in the nation on the bench. He is co-owned by me (Kat) and my youngest daughter, Kadie- who you will see handling Gossip in some of the upcoming Youth Events.
Gossip had a stellar win list when we bought him and continues to add to it rapidly. As of July 4, 2010, in just 3 1/2 short months- Gossip & I have racked up 40 Purina Points (he now has a total of 50) and 116 Top Ten Points (for a total of 132). He has also won several AKC Overall Events since we bought him. He is one of the finest hounds I have ever had the pleasure to handle. He is also one of the sweetest dogs I have ever owned. He can be a couch potato one minute and a lethal competitor the next.
I have the priviledge of also owning Gossip's son, Romeo. Romeo is the spitting image of his father with just a tad darker red. Otherwise, they are marked uncannily similar and Romeo is fortunate to have his dad's nice STOCKY COONHOUND build. Some will prefer a more streamlined dog.... I prefer Gossip! He is definitely the epitome of HOUND and I believe his son, Romeo, will be much the same. You can watch Romeo grow by clicking his link on this page.
Also below, you can click on Gossip's win list or win photos links.