Some of our proudest moments from dogs that have passed through our kennel!
GRCH 'PR' Tree Rizin' Maine Edition~ aka~ Sydney is one of the nicest hounds that I have ever had the pleasure to handle. She made a name for herself within the redbone community quickly and in high style. She went from registered to grand show champion undefeated at all PURINA RACE events. That's the biggest of the year for those not familar. She won Purina Outstanding Redbone Show Dog of the Year last year (2008) and has much much more to accomplish in her show career. She is going to be hitting the AKC show ring in 2010 and it is our hope that she will become an ambassador of the breed as AKC accepts the redbone coonhound into their midst.
Look in the coming weeks for pictures of the puppies we choose to keep out of Sydney's Dual-Sired litter. We look forward to these puppies and a future puppy from Sydney to continue her legacy in our program.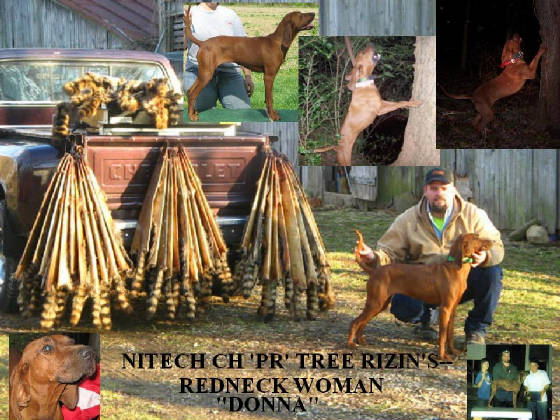 Donna is one of the nicest Razor females out there bar none. She was a great dog to own, to train & to campaign. When we thinned back the kennel, Donna was bought by Bo Bennett who intends to use her in his program to help improve our breed. It would have been awesome to continue on with Donna & work her towards her GRNTCH title- which was our goal but as life interferes sometimes, we didn't want to take anything away from Donna so thought it was in our best interests to move her where she could see her potential fulfilled.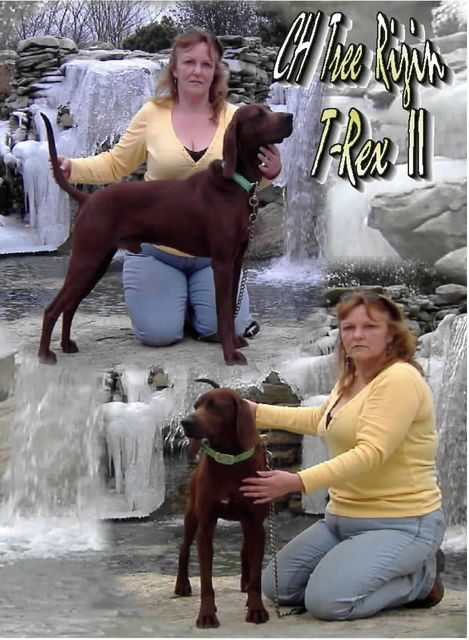 Tracker is & always will be my T-Rex baby! He's one of the nicest males I've ever had the pleasure to handle on the bench and maybe the best ground dog I've ever handled. He is out of T-Rex & Sweet. Sweet has proven one of the best brood females I've ever had in my program. Tracker has a powerful SUPER loud bawl mouth. His biggest win was at 2007 Autumn Oaks where he took Champion Redbone Male in a class of exceptional hounds- including several that I bred. He also won Best Male of Show at BBCHA Bluetick Days, Champion Male & Treehound's King of Show at US Redbone Days, Champion Male @ KY Youth & Ky State Championships. He is now owned by Sam & Sabrina (pictured above) Smith of TN. Sabrina & Sam have been busy giving Tracker a new job. He's been hitting the water in 2008 and currently has his 1st place & 65 pts towards his water title. We believe that Tracker could be dual titled by the end of '08!! We are extremely proud of Tracker & Sam & Sabrina for getting him out there. I STILL miss my boy! He is proving nearly IMPOSSIBLE to replace!
Deacon is another awesome Razor kid. He was born & raised in this kennel & finished to his Grand Show by Kat & his Nite Champion Hunting titles by Rob. He will always be an intregate part of our program by way of frozen semen & by way of his current offspring. We currently have 3 puppies out of Deacon. Lace is out of his 1st litter. Lace is NITECH now. Timex & Kit are out of his 2nd litter. Deacon is a powerhouse coondog and is GORGEOUS. Click on Deacon's picture to read more about him.
Venus is one of the nicest dogs I've ever had the pleasure to show. Her career is impeccable & it has been a great pleasure to have her in our kennel. She is out of our GRNITECH GRCH AKC NITECH 'PR' Key's Outlaw Razor Red & GRCH 'PR' Tree Rizin' Sweet Midnite Music and was born & raised in this kennel. While being campaigned here- she has won at American Redbone Days, National Redbone Days, Southern Redbone Days and has won at Autumn Oaks two years in a row. She is awesome in every respect. Venus is now owned by Kim & Kance Causey of Oregon.