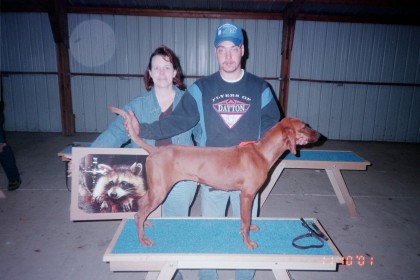 Pictured Above is Brent Eller (co-owner of Roxie), Katina & Roxie with Brent & Roxie's first win towards GRCH at the Ohio CHA State Championship.

CH 'PR' Childers Tree Rizin' Red Roxie is a young female that has taken off in the woods. She is running & treeing with the older dogs, isn't a bit afraid of the dark, hunts her own woods & participates in the hunt, the tree & the fight. She's a young dog with a lot of grit that is going to make a heck of a coon dog!!

She has a very very nice mouth and rips off those chop barks so fast it's hard to count. Once she gets a little experience, I think she will be tough to beat in a treeing contest.

She received her Best In Show with very little practice on the bench. I'm very proud of her in that respect.

UPDATE 11/12/01:
Brent Eller (Roxie's new Co-Owner) and Roxie won Champion of Champions female at the Ohio CHA State Championship!!!! This was Brent's very first time showing a dog on the bench! Congratulations BRENT!!! Way to GO!

Roxie's breeding is very close to Star's breeding (same sire as Star & Anvil) and both have Billy The Kid, both dams are NITECH's and Roxie's grand-sire on her mom's side is also a 1/2 brother to JJ & Billy The Kid so she has an incredible pedigree.

Here's a quick breakdown of Roxie's pedigree:

Sire: GRNITECH GRCH Key's Outlaw Jesse James
(for rest of top side, please see Anvil or Star's page where this top side is outlined)

Dam: NITECH Wilborn Creek Jewel
Grand Sire: GRNITECH CH Reeds Saline River Ratt
Great Grand Sire: GRNITECH GRCH Amos' Burning Ben
Great Grand Dam: Dawn's Timber Rose

Grand Dam: GRNITECH Wapsi River Cookie
Great Grand Sire: GRCH GRNITECH Outlaw Billy The Kid
Great Grand Dam: Lamine River Outlaw Red Cheyenne

I will update on her as she progresses. This is an exciting time for her & those hunting her- as it is exciting watching a young dog come on.