~Alittle on RAZOR'S PEDIGREE~
Razor has a great foundation of great coon dogs in his pedigree. His sire is Thomas' Mo Bruiser whom was owned by Travis Thomas who owned GRNITECH Ramblin' Red Ace. The word is that Bruiser, although not campaigned due to owner age, etc- may have been one of the all time greats for our breed and certainly this particular cross has more than proven that he was one heck of a reproducer.
Brusier sired a total of 74 puppies- there are now 4 GRNITECH's and 2 NITECH's in that mix plus a few show titles as well. Do your math- you will see that, percentage wise, Bruiser is 2nd in reproduction stats only to Henning's Chief (his grand-dad twice over) for the historical list of reds and Chief's sire, Hayes' Ramblin Red Ace was #1 until he was bumped off the list (they are removed once "gone" for 25 years or more. Folks, this tells you that Razor is from a long line of reproducers!!!
Some say to "look at his brothers & sisters to see what kind of dog's THEY are". Well- PLEASE DO- give Charlie Cole a call, who just won 2002 American Redbone Days & finished Ann to GRNITE! While you are at it, give Fred Moran a call & ask how his Turkey dog is doing and then call Donnie Frazier and ask about Goldie. They will all attest to the kind of hounds in this cross.

Razor's TOP side:

Sire: Thomas' Mo Brusier
GrandSire: Turpin's KS Thunder (littermate to Rusty Red's mom)
Great Grand Sire: NITECH Henning's Red Chief (Out of the great "Ace")
Great Grand Dam: GRCH Hayes' Ramblin Red Kate

Grand Dam:
Burke's Red Cricket
Great Grand Sire: NITECH Henning's Red Chief ("Ace")
Great Grand Dam: Henning's Magic Lady

Razor's BOTTOM side:

Dam: Marcum's Red Kentucky Molly
Grand Sire: GRNITECH Hurst's Honest Amos
Great Grand Sire: GRNITECH Woody Woodpecker (Off of Woodpecker)
Great Grand Dam: Tall Timber Sassie

Grand Dam: NITECH Dean's Little Red Ruby
Great Grand Sire: NITECH Turpin's Red Duke
Great Grand Dam: Turpin's Ky. Lady

Razor is one of many winning dogs in his litter. His sister just won 2002 American Redbone Days Best Overall Dog of Hunt (CONGRATULATIONS CHARLIE!!! GREAT JOB!), High Scoring Redbone female in 2000 and 2001 at Autumn Oaks. She is GRNITECH Golden Woods Little Ann owned by Charlie Cole. He also has two other dogs that are GRNITE and 2 NITECH mostly from the same cross, one being Fred Moran's Turkey dog and Donnie Frazier's Goldie female (also a littermate to Razor) just lacked a few points of getting her 1st place win when she got qualified for the 2002 World Hunt this past weekend (5/26/2002). What an amazing cross!!

~ More on RAZOR PUPS ~
It's been alittle over two years ago now that we bought Razor and we have never regretted purchasing him for one minute. He is the definition of TOUGH & he gets the job done right!!! We hope to carry on that ability in his offspring.

Razor now has several litters on the ground and we get a tremendous amount of e-mails and phone calls from people wanting a pup out of a coondog, not just a show dog. Razor is definately that!!! All of the litters that we raised were sold either before birth or within 2 weeks of birth.

We now have 4 puppies off of Razor. Rooster <Tree Rizin' Razor's True Grit> (Razor X Star) is only 8 months old, is a VERY hard tree dog and is going great in the woods for his tender age. He's a BIG boy and he made Champion on the bench in 2 weekends- looks and ability!!!
We also have Harley <Tree Rizin' Born To Be Wild> (Razor X Jiffy) is a coming one year old female that we just got back. She has a nice shrilling mouth and wasn't given any exposure to coon when we got her back but now is barking and tearing at a caged coon. We look forward to getting her in the woods & see if she has her daddy's natural ability. She also has great confirmation and the tightest cat feet a person could want so we will be putting her on the bench soon as well.
Next up are the puppies. We have a 3 month old off of Razor X Alton Key's NITECH Pearl female that we call Daisy <Tree Rizin' Coon Crazy Daisy> and a 3 month old off of Razor X my GRCH Lil' Red Ridin' Hood that we call Deacon <Tree Rizin' Deacon Does It>. Daisy is already treeing on a caged coon both on the ground & will lock down treed when hoisted up in a tree. Deacon is pretty special in that he is a DNA-VIP puppy with 60% fixed traits!! If he makes it, he should pretty much produce his likeness in his pups. So far he is showing great signs with a VERY LOUD COARSE deep mouth!!

We try to have Razor pups available whenever possible. They go fast and priority is given to hunters (especially on exceptional hunting crosses). Please e-mail or call if interested. Razor is also available at stud at $300 or possible choice pup. These pups sell themselves. If you have a nice redbone female, you may want to really think hard about adding alittle "Razor's Edge" to your program!! Negative brucellosis is required.

Reports on Razor's oldest pups are GREAT!! Pups are running and treeing at a very early age and of the ones we were able to speak with recently, none of the pups could be bought. Razor is throwing some really beautiful pups as well. We get reports on Razor pups quite frequently. If you have a Razor pup, give us a call- we would love to hear how he/she is doing.

For more information on the pups or to book one, please e-mail us at TRRedbones@hotmail.com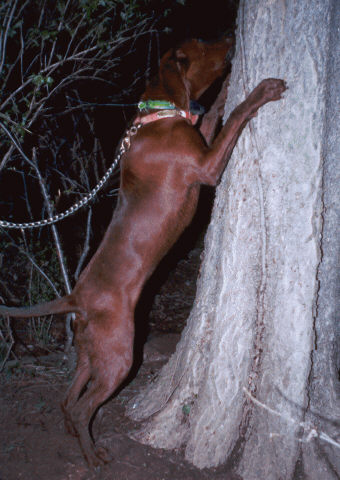 This is CH 'PR' Tree Rizin' Lil' Miss Grace. She is a 9 month old puppy off of Razor X Annie. She is beautiful, has a nice mouth and is doing awesome in the woods so far. She was just recently sold to Byron Britton of Iowa and Byron is going to campaign Grace in his area. Good Luck Byron.