December 1, 2008:
The puppies are growing by amazing leaps and bounds. We've changed their collars AGAIN- going out this weekend and buying new ones to accomodate their quickly growing size. My big scale is dead at the moment but once I get it fixed I will update with current weights.

Below enjoy 6 wk bench pix of the puppies.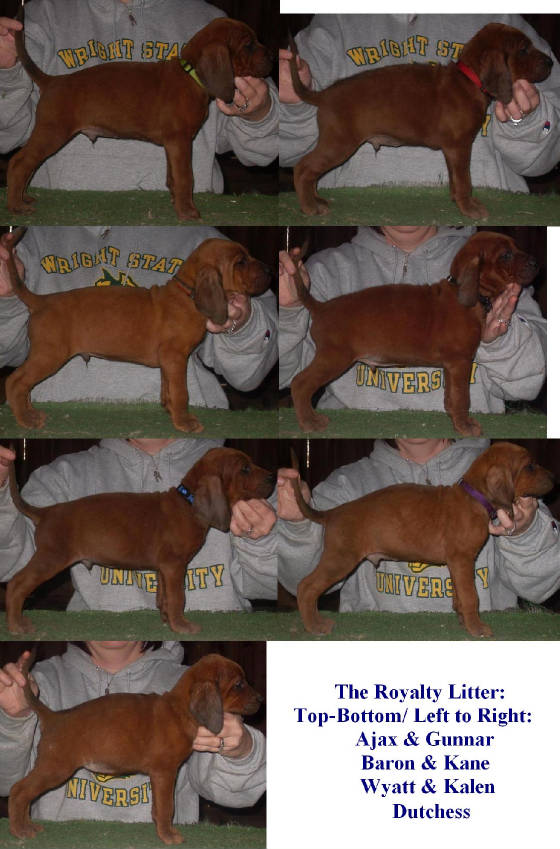 In Order: Trip, Pheonix, Cletus, Nitro, Diego, Kane & Honor
December 6, 2008:
The babies are just 1 day shy of 7 wks old. It's hard to believe!! In just a few short days, they will be old enough for me to use Pat Hasting's Puppy Puzzle theory to evaluate the puppies. Since I am keeping them for an extended period of time, I will not be using this evaluation to "PICK" a puppy but will use it as another tool in watching them grow.
Rob and I have discussed the possibility of keeping just 3 or 4 of the puppies into the long haul of the winter and the jury is still out on whether that's the road we'll go down. For now, I am still content taking my time. If these puppies were not so all incredibly nice, it would be easier to consider letting them go. I have an AWESOME list of folks that are on my wait list and I know that they should all end up in great campaigning homes-- but for now, I am happy watching all 7 of them.
We took pix today. The only pic that I am not real crazy about- because it should have been reshot is Gunnar's pic -- Rob gave me a thumbs up on it and only took one shot (first pic taken in the group and he was trying to rush through). Had I seen it in time, we would have reshot it. The rest of the puppies did get 2-3 shots if they needed it to make sure we got a good pic so I feel this picture doesn't do Gunnar justice. He is a real nice puppy. I'll make sure we get a better picture next time.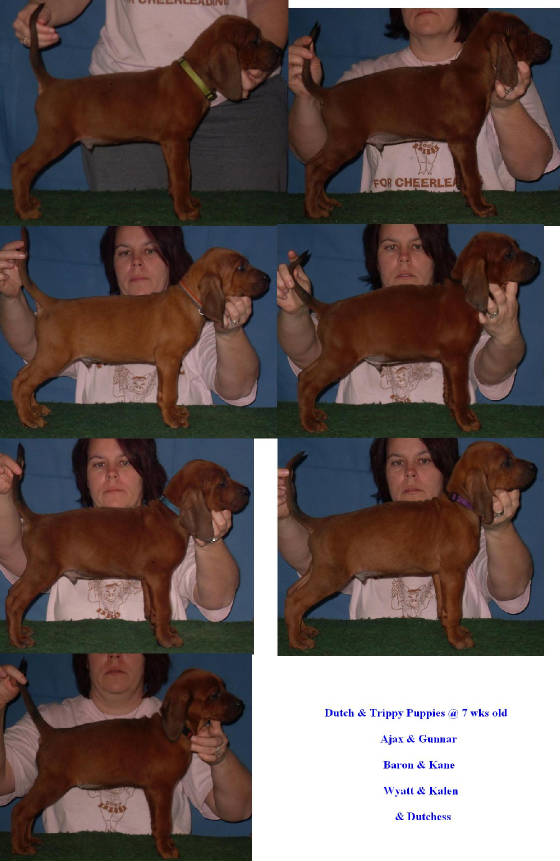 Same Order: Trip, Pheonix, Cletus, Nitro, Diego, Kane & Honor
December 13, 2008:
The puppies are now 8 wks old. On one hand, that is extremely hard to believe- seems they were just born last week.... on the other hand, these puppies have been growing by leaps and bounds and it seems like they've developed their own personalities so well that they very MUCH seem their age.
Below you will find the 8 wk old photos of the puppies.
You may be surprised to read this.... but we've decided which puppies we are retaining here at Tree Rizin' (you'll have to check that part out from the Wee One's Page) and there will be 4 of these babies available to qualified SHOW homes that currently show or are looking to show at the national level.
Tonight, I had my good friend & mentor, Phil Newland look over the puppies with me. Phil has 40 yrs of show experience and has one of the biggest win records for the walker breed of any show person in this nation. Phil was very impressed with the litter as a whole. He felt that all of the puppies have excellent temperaments, great angulation and very nice color. He said- all-in-all a very nice litter of puppies.... no "outcasts"-- a super group. :)
I already knew all of that but don't tell him I said so. <G> :)
At any rate, I have contacted those on the wait list and will give them a couple of days to respond and then once I know what is actually going to be available, I will post that on my What's Available page BUT keep in mind that until a puppy from this breeding leaves my home, I am extremely subject to change my mind and pull some of the available puppies back into my keeper group. You have no idea how horribly I have fretted over trying to thin this group of babies down. I had no intentions of doing so at this point but Rob says that the feed bill is just too high to keep the whole gang so he asked me to try to make my picks with the understanding that the others are going to National Competition Homes anyway & that's really all I could really want for these babies.
Here they are:
Last Picture in the Puppy Diary: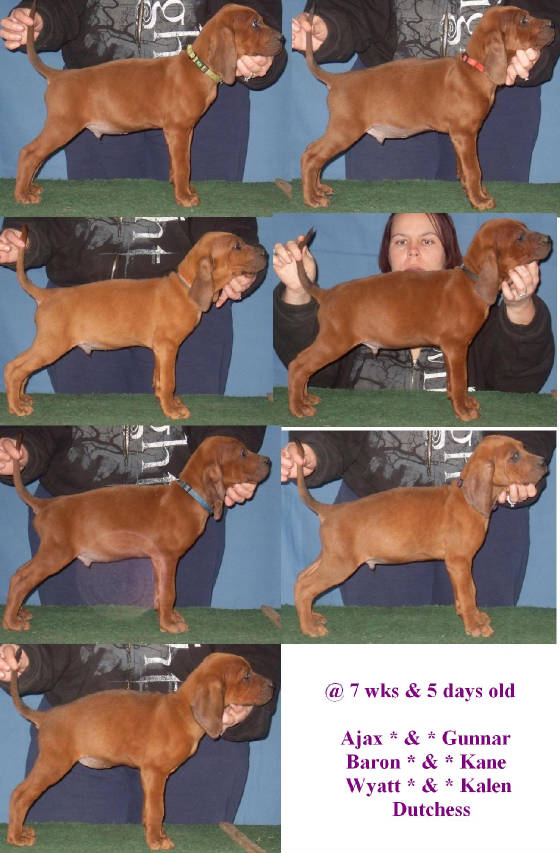 & Their Big dog names: Trip, Pheonix, Cletus, Nitro, Diego, Kane & Honor