Welcome to the litter page for Chase & Ariel's babies.
Most of the puppies have made their way or will be making their way to their new homes this weekend. We currently have ONE male (Flotsam) available and may consider placing Jetsam in a SHOW home. These puppies are SUPER nice. Get one while they are still available.
Congratulations to the following puppies/new owners:
Rodney & Mary ~ new owners of Flounder (now Snap)
Paige & Chris ~ new owners of Scuttle (now Voldemort)
Traci & Craig ~ new owners of Triton
Richard ~ new owner of Sebastian (still Sebastian!)
Juan ~ new owner of Ursula
Jamie & Dwight ~ new owners of Gabriella
Susan ~ new owner of Flotsam
Tree Rizin' is currently retaining Melody (now Prim)
and is NOW offering Jetsam for sale.
ARIEL ~ MOTHER TO THE LITTLE MERMAID LITTER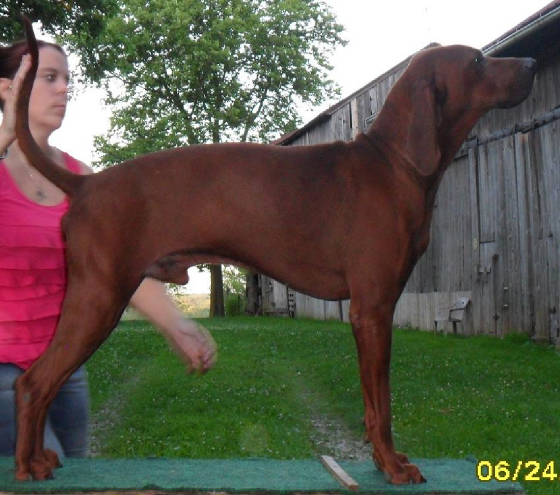 CHASE ~ SIRE TO THE LITTLE MERMAID LITTER
Meet The Parents:
CH 'PR' Tree Rizin' Lord of the Ring (Chase)
Chase has qualified for the UKC World Show two years in a row. Chase has suffered two separate injuries that have hindered his show career. The first taking him out after his RQE win last year. The second "injury" was noticed the day he came back home after a 6 mth stint in Texas. He had a knot on his back hip that the vet said was due to a calcium deposit build up. After weeks of making sure he wasn't laying on a hard surface and a round a meds, we made the decision to have the excess calcium removed. Again, this put Chase out of commission.
It's been a slow recovery and he is still is walking with a limp which will keep him from his much anticipated trip to Autumn Oaks & UKC World Show this year. Although we are disappointed, we are still hopeful that we'll be able to campaign him as we had planned and we feel blessed that we got him home (in spite of this set back) to put him into our breeding program.
Chase is sired by World Show Champion Purina Outstanding Show Dog of the Year GRWCH GRFCH GRCH 'PR' Only In America & is out of our Tree Rizin' Matriarch, GRCH AKC CH 'PR' Tree Rizin' Triple Crown (Trippy). He is from the 2nd breeding of Dutch & Trippy. The first cross boasts FIVE offspring that have campaigned successfully at the national show level and many of THEIR offspring are now doing the same. Chase's littermate brother Nitro currently has a Breed Placement & a 5 point major towards his AKC Conformation title. Another littermate brother, Kane, has finished his UKC Champion title with wins including Best Male of Show @ National Redbone Days.
Chase has a big loud mouth & a temperament that I would clone if I could. He is one of the sweetest, most eager to please male dogs I've ever owned.
CCH GRCH AKC CCH NKC CH 'PR' Tree Rizin' The Little Mermaid (Ariel):
Ariel has more titles than most. =) She is a nice little show dog that performs well on the bench and on the ground. Her titles show that she is built beautifully. Ariel also has natural coon drive and a willingness to field trial, water race, and nite hunt. Once Ariel is off of her puppies, that will be her primary goal next year. I would like to see her competing towards her water & field titles (just like her sire GRWCH GRFCH GRCH 'PR' Second Edition), and Rob will pleasure hunt her some as well. She has a big booming mouth for a female. We may also put Ariel into the AKC Conformation Ring. With her nice movement and desire, I've no doubt that she will have a bright future there as well.
Ariel is a full sister (but younger) to 2008 Purina Outstanding Redbone Showdog of the Year GRCH AKC CH 'PR' Tree Rizin' Maine Edition (Sydney) who recently finished her AKC Conformation title.
Litter Expectations:
Both Chase & Ariel have sweet, outgoing, well mannered temperaments. This litter should have the same. We expect average size, beautiful color, great trainability for companionship, and conformation that should compete at the national level. The collect pedigree also supports those interested in water and field trial events as well.
Bred more for show than hunt, this litter should be well suited for companion life provided they have a job and are made a member of the family. This is the ONLY litter we will raise this year where I will actively book companion homes at this point.